Welcome to Nightingale Class
Welcome to Nightingale Class
7 September 2020 (by Penny Kemp (Nightingales))
Welcome New Nightingales!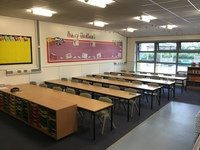 This is your new Y4 classroom! As you can see, we've been really busy getting it ready for you, and we can't wait to have you all in and make the place feel a 'Littlemoor' normal.
Please be aware you need to arrive in school in your normal school uniform - PE will start from next week.
Have a good night's sleep, and we'll see you in the morning at 9am.
Lots of love, Mr Jones, Mrs Hayward and Miss Key