Esholt Woods trip
Esholt Woods trip
22 October 2020 (by Daniel Couves (Blackbirds))
The children loved our trip to Esholt Woods.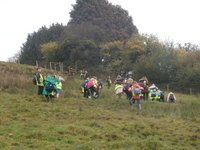 What a fantastic day we had exploring the flora of the woodland right on our doorstep. The children really enjoyed seeing all the animals in their fields and paddocks and spotting trees and flowers on the sheet they were given. After a lovely picnic under the canopy of the trees, the children loved splashing about in the stream, playing hide and seek amongst the trees and generally getting mucky! We don't know why but the children kept finding bits of broken pottery in the stream!?! They all showed great perseverance to make their way up a muddy hill on the way back to school, with Miss Tate taking the prize for most slips and trips! Luckily for us, when we passed the allotments a kindly grower gave us some pumpkins to take back to school. We will be making use of them on our Halloween Day on Friday! The children were shattered when they got back but where a credit to the school. Well done everyone!
Please see the attached link to our class webpage for more pictures from the trip.