Christmas Party
Christmas Party
18 December 2020 (by Tom Ibison (Blackbirds))
The children were thrilled to be back in school today and it was party time!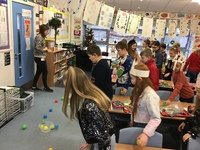 As is tradition in UKS2, the party began with a bow tie and tiara making competition judged by the lovely ladies from the office. The children loved cat walking to show off their designs and a big well done to our two prize winners! We then followed this up with loads of party games which included a very competitive ball bouncing game, a knackering game of outdoor musical chairs and some spectacular dancing! Before coming in to tuck into our party food, we also had a special visitor who came to give us all a present! Pictures of all the fun can be found via the link.
It was great to be back in before the Christmas holidays so we could all see each other one more time in 2020. I'd like to take this opportunity to thank all the wonderful parents and carers who have supported the Blackbird class team in such a challenging year, especially during our time in isolation. The support you gave to us and your children was remarkable and cannot have been easy to do considering all of the demands on your time at this time of year. So on behalf of Mrs Hanson, Miss Etherington, Miss Tate and myself, I'd like to wish you all a very Merry Christmas and a Happy New Year! I'd also like to wish Miss de la Torre all the best and thank her for all the support she has given to Blackbird class this year (in school or on Seesaw), as she has now left to go on maternity leave!