Viking Workshop
Viking Workshop
24 March 2021 (by Martin ALLEN (Deputy))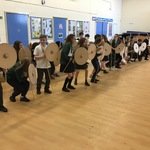 Last week we had a fantastic time welcoming Matthew, from Moveable Feast Productions, back into to school to work with us.
We learnt lots more about Viking life, raiding, battling and the Viking Gods!
It was also the first time we have walked down the school corridor and visited the school hall for over a year!! All very exciting stuff!