Viking art and design
Viking art and design
6 April 2021 (by Daniel Couves (Blackbirds))
In a challenging term, there were just some things we couldn't do over Seesaw with this topic - art and design. Therefore, we completed two projects on our return to school: crafting a clay Thor's hammer necklace and sewing Viking dragon slippers.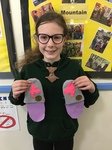 The first project involved turning a small ball of clay into a miniature Mjolnir (the name of Thor's hammer). Vikings would wear these as brooches, pins, necklaces and amulets to grant them the protection of the God of Thunder. The children either moulded their piece of clay in one piece into the shape of a hammer or they used slipping and scoring to combine pieces together. Once shaped, the children decorated them using Viking patterns and runes they had learned about previously. Once dry, they were then varnished with PVA glue and had a piece of string/twine popped through them so the children could wear them as jewellery around their necks.
Our second project involved practising our sewing skills. First, the children had to choose either complementary or contrasting colours of felt to cut out their soles and tops. To tie in with our dragon work in English, the children also designed and cut out a dragon image to adorn the top of their slippers. They then had to appliqué this design onto each top using a running stitch before using the same stitch to attach the tops to the soles. The children did this last part upside down so they could then turn out their slippers and hide the stitching. Those who had time added a blanket stitch around the edges of the sole to neaten them up. Everyone worked so hard on what was a time consuming, fiddly and, at times, infuriating processes to produce some excellent slippers that any dragon trainer would be proud to wear. Well done everyone!
To see all the children's efforts on our website, follow the link provided.