Getting the measure of maths
Getting the measure of maths
4 May 2021 (by Tom Ibison (Blackbirds))
Over the last few weeks, the children have taken part in a number of practical maths lessons on measures that they couldn't do during lockdown.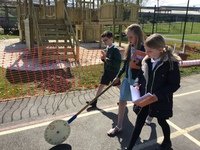 They have learned about how to measure accurately and what piece of equipment and unit of measure is best to measure specific things. They worked in groups to measure things on the playground and then practised converting between metric units of length.
To practise their area and perimeter skills, the children looked at how to help refurbish Miss Tate's house, working out how much carpet she would need for her bedrooms and how much fencing she needed for the garden amongst other things.
They also did practical work on volume and capacity, using blocks to build cuboids and water to check the capacity of mystery containers.
The children really enjoyed this hands on learning and this practical approach helped ground their understanding of measures and support them in future lessons.
More pictures of the children measuring in maths can be found on our class webpage: https://rawdonlittlemoor.sites.schooljotter2.com/children/classes/blackbirds