Volcano Curriculum Day
Volcano Curriculum Day
18 June 2021 (by Daniel Couves (Blackbirds))
For our curriculum day this term, UKS2 hosted a Volcano Day.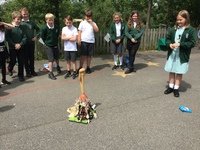 During the morning, the children learned about the make up of the earth, how volcanoes are formed and the parts of a volcano. They produced a wonderful booklet to showcase what they have learned complete with scientific diagrams.
In the afternoon, the children got the chance to show the class the volcanoes they had made as part of their last homework project. We focussed mainly on the erupting ones and still have more to look at next week, but the children have all done an amazing job! Photos of the eruptions can be found by clicking the link. More photos of those doing their presentations next week will be added to the slideshow at a later date.