Farewell Miss Tate!
Farewell Miss Tate!
5 July 2021 (by Tom Ibison (Blackbirds))
Today, we sadly said goodbye to Miss Tate after 6 years of working with children in our current Y5.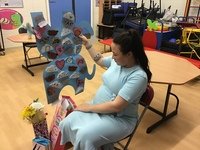 This afternoon, we took the chance to say a big thank you to Miss Tate from all of us in Blackbird class. We presented her with gifts and cards from staff and children whilst having a little picnic (moved inside to the hall due to the wet weather).
Miss Tate was overwhelmed by the generosity of all the parents and carers and wants to say a big thank you to you all. She loved opening her gifts in front of the children and reading the class card that all children contributed lovely, touching messages too - she cried twice!
I would like to take this opportunity to say a huge thank you to Miss Tate from all the staff, parents, carers and children at Rawdon Littlemoor! We want to wish the best of luck to her, Will and her baby boy and we cannot wait to meet him soon. All the best, Miss Tate!
Pictures from the picnic can be found by following the link.