Filey photos
Filey photos
19 July 2021 (by Tom Ibison (Blackbirds))
The children loved the chance to spend time together on Filey beach last week as part of our Creeping Coasts topic.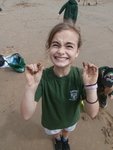 They were a credit to the school all day, despite traffic issues meaning our trip was a bit shorter than planned. They had a great time working in teams to build sand sculptures, exploring the rock pools and, most of all, having a double scoop ice cream for only £3!!
A huge thank you to Mrs Skitt, Mrs Quinn and Mrs Smithson for coming to help and to Mrs Jarvis for all the work she did to make the trip possible - we really couldn't have done the trip without all of you!
Pictures can be found by following the link to our class page.