Ancient Egyptian Workshop
Ancient Egyptian Workshop
20 September 2021 (by Tim Jones (Nightingales))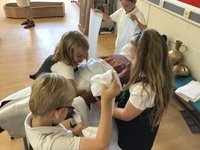 We had a fantastic afternoon learning all about the Ancient Egyptians from our visitor Matthew.
Some of the things we learnt about were:
Mummification
Funerals in Ancient Egypt
Gods and Goddesses
Well done to Nightingales for taking part with such enthusiasm!
There is a gallery of picture on our class page of the website. Click the link below to visit the page.