A lovely first few weeks
A lovely first few weeks
24 September 2021 (by Rebecca Jarvis (Kestrel))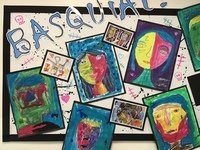 Hi Kestrels,
I just wanted to say thank you for a lovely first few weeks together. It has been very busy and you have worked incredibly hard to get into new routines and make friends again with class mates you've not seen for a long while, not to mention friends from other classes at break and lunchtime. I have thoroughly enjoyed getting to know you all and I'm looking forward to the year ahead!
On a slightly different note, Year 6 will be bringing home their Robin Wood DVD of photos this evening so you can see what they all got up to on their residential! Please may I politely remind all families that we are only able to provide our children with this souvenir with the agreement that none of the photos that include other people's children are uploaded to social media platforms. Thank you for your cooperation with this. Also, a massive thanks to Mrs White for producing the DVDs for everyone - it has taken many extra hours of work!
Have a lovely weekend everyone and I'll see you on Monday.
Mrs Jarvis