Inter-house Football Tomorrow
Inter-house Football Tomorrow
18 October 2021 (by Rebecca Jarvis (Kestrel))
Hi Kestrels, What a busy few weeks we have had what with drama workshops, Apple Day and harvest preparations! However, the fun doesn't end there as tomorrow is our Inter-house football competition!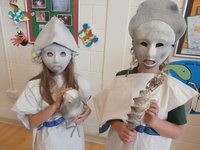 You have probably read this in the newsletter already but I just wanted to remind you to wear your PE kit for the event. The weather is not looking good, so please make sure you have a coat to wear, and the field may be on the muddy side after today's rain so avoid fancy trainers! We are not wearing football studs/blades as not everyone will have these, so just trainers please.
Hopefully it won't rain quite as much as the forecast currently predicts!