A splash of science
A splash of science
9 December 2021 (by Tom Ibison (Blackbirds))
There was no resistance to the fun and excellent scientific enquiry skills during our most recent science investigation.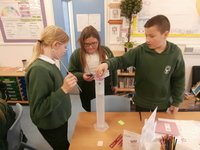 The children explored the effect of an objects shape on its water resistance. In groups, the children formed plasticine into a flat disk, sphere and cone shape to see which one dropped through a beaker of water the fastest. They then used what they had learned about the surface area of those objects to then form their own shape to see if they could create something more streamlined. They all had a great time testing their theories and showed off some good knowledge and understanding too.
For more pictures, see the slideshow on our class page by following the link.