Merry Christmas!
Merry Christmas!
17 December 2021 (by Rebecca Jarvis (Kestrel))
I just wanted to say a massive thank you for all of the cards, gifts and kind messages you have sent through. It is never expected, but greatly appreciated - thank you!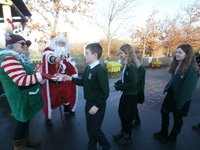 All of the children have been brilliant this term and coped incredibly well. We are all very proud of them - as I'm sure you are too!
Here's hoping things will settle down again in spring and we can continue to work hard in school and have some fun.
Have a wonderful, and hopefully healthy, Christmas. As you can see from the picture, we've already had a preliminary visit from Santa today to get us in the mood!
Love and best wishes,
Mrs Jarvis, Mrs White and Miss Tickle