Merry Christmas
Merry Christmas
17 December 2021 (by Tom Ibison (Blackbirds))
Thank you to all parents and carers of Blackbird class children for their generous gifts and cards for all staff in our class. We are very touched and want to wish you all a very happy Christmas and New Year!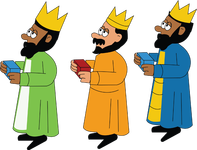 When we return to school, there are just a few things to remember:
School opens Tuesday 4th January.
For the first week, we have had to switch our PE day to Thursday instead of Tuesday. This is for one week only, the children have been told and have written it into their planners.
Some children who have not taken part in the Sports Leader course run by ACES will also need to be in PE kit on Friday. They know who they are and have written it into their planners.
Swimming starts the week AFTER we return to school and is on a Wednesday. All information regarding swimming is on the letter we sent out but please ask if anything is unclear. We will go through everything with the children in advance of starting our sessions.
Thank you once again and enjoy the festive period!
Mr Ibison, Mrs Barnes and Mrs Weatherhead