A few things...
A few things...
25 November 2022 (by Kingfisher)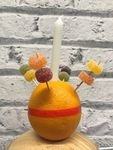 We have started gearing up for Christmas, and performance practises are in full swing.
A few things to note:
Costumes for our Christmas performance are due in on Monday 28th November.
If you haven't got your tickets yet please can you return your slips so we can get them given out.
It is our Christingle service on Thursday 1st December. Please provide your child with a Christingle (see the picture for inspiration).
If your child would like to, please create and bring in a decoration in their house colour to put on our house Christmas tree. The best decorated tree wins!
Thank you