Extra! Extra! Read all about it!
Extra! Extra! Read all about it!
15 November 2019 (by Daniel Couves (Blackbirds))
What? You haven't heard the news! Never fear, the Blackbird Class News Team are here!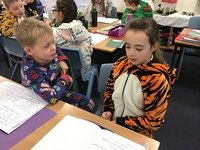 Over the next few weeks, the team will be investigating to uncover the truth about the assassination of the beloved and revered Julius Caesar! Our plucky, junior reporters will learn how to put news articles together and have already been hard at work interviewing witnesses to the murder, both in a live press conference and in 1-on-1 interviews (see picture). Stay tuned for further developments in this breaking story!